Program Description
Top-ranked full-time MBA program in Florida by Forbes since 1999. The Rollins Early Advantage MBA is a full-time day program for recent college graduates with little to no work experience and career changers. Students can participate in our student-alumni mentor program, serve on local nonprofit boards, gain MBA-level internship experience and select from a broad range of elective courses.
Curriculum Overview
Early Advantage MBA students complete four 12-week terms spread out over 16 or 20 months. The credit hours are distributed as follows:
Foundations courses (8 credits)
Disciplinary Business core courses (20 credits)
Elective courses (minimum of 20 credits)
Integrating course, including international study component (10 credits)
Concentrations
Students will have the ability to achieve an optional concentration (included in tuition) in one or more of the following fields of study:
International Business
Finance
Operations and Technology Management
Marketing o Entrepreneurship
Management
Social Entrepreneurship Sustainable Enterprise
Scholarships
All Early Advantage MBA applicants are automatically considered for merit-based full and partial tuition scholarships. Merit-based scholarships are offered based on students' GMAT scores and GPAs. Students are also eligible to apply for a variety of topic-based scholarships.
Global Opportunities
Studying the effects of cultural influences on business is one thing; seeing them in action is another. Rollins Early Advantage MBA students experience international business first-hand by applying classroom learning to real-world challenges through the following programs:
Global Business Experience
This experiential learning course focuses on the challenges and opportunities of doing business in a particular country or region. It features travel overseas as a group, accompanied by the instructor, to gain practical experience in conducting business abroad.
Global Consulting Projects
Early Advantage MBA students may also participate in Rollins MBA Global Consulting projects. Each Global Consulting project includes a one-week trip abroad to conduct field research and gain a direct understanding of the business and cultural aspects of the market.
International Exchange Programs
Early Advantage MBA students who start the program in August have the opportunity to study with MBA students from around the world at EM Lyon in France. This international exchange program runs approximately four weeks at the beginning of the summer break, which allows students time to return and complete a summer internship.
Global Sustainability: Business and the Environment This course focuses on the principles and practices of environmentally-sensitive "green" business. Students learn how businesses can innovatively enhance profits through careful stewardship of the environment.
Business in Emerging Markets
This course gives students an opportunity to gain first-hand experience in an emerging market and includes a one-week field trip overseas.
Doing Business in Latin America
This one-week course is held at IPADE Business School in Mexico City and provides Rollins MBA students an opportunity to join MBA students from around the world to study Mexico's tourism industry.
Experiential Learning
Our students work with real companies and take on real business challenges and are prepared to enter the workforce with the kind of practical experience that employers seek. The many organizational contacts our students experience during their program build their professional networks and can lead to internships and future jobs. It is an ideal program for students without work experience or with little work experience, and for career changers.
Last updated Dec 2017
About the School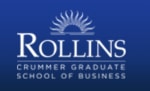 Rollins College Crummer Graduate School of Business graduates are coveted professionals, prepared for the challenges of a competitive global economy.
Rollins College Crummer Graduate School of Business graduates are coveted professionals, prepared for the challenges of a competitive global economy.
Read less
Accreditations