Read more about this program on the institution's website
Program Description
This programme focuses on developing your capability for incisive analysis, innovative thinking, leadership skills and entrepreneurial action in a global context.
The Edinburgh MBA aims to prepare you for strategic leadership in a rapidly changing world.
There are two variants of our MBA, both are 12 months in length but one includes an international exchange to a partner institution. The other is at Edinburgh for the full duration and allows you to focus your studies on a subject area such as Strategy, Finance or Entrepreneurship.
On our MBA you will develop an understanding of:
The nature and complexity of the global challenges facing businesses.
The importance of strategic leadership as an approach to achieving success in a rapidly changing environment.
The key management functions associated with finance, accounting, strategic marketing; organisation and operations.
How markets and international economies work.
The responsibilities of businesses as stewards of financial, social and natural capital.
In addition, either of the two MBA programmes will develop:
Your confidence in decision-making through the applied analysis of real business problems.
Your ability to think strategically and holistically when planning new business solutions.
A passion for innovation and entrepreneurial action.
A global mindset with sensitivity to the impact of differences of culture and context on strategy.
Advanced communication and interpersonal skills for effective leadership.
Both programmes take a global perspective, although the opportunities for international travel on each programme are different in scope and extent.
On our MBA, there is an opportunity to study International Business in Context (a one-week intensive module located in an emerging market) and to undertake your Capstone Project focused on a country outside of the UK.
On our International Business Pathway, the international opportunities are greater. You will spend 2-3 months in an exchange with one of our international partner Universities (Australia, Canada, China, Finland, France, Mexico, Spain and the USA).
MBA Student Profiles
Our MBA students are highly skilled and highly focused on typically 7 years of managerial work experience, albeit our minimum requirement is 3 years of work experience in a managerial role. We offer the opportunity to browse our MBA student profiles to help you find potential candidates for your organisation.
Entry requirements
Before applying for the Full-time MBA programme, please consider our minimum entry requirements, which include academic qualifications, managerial work experience and English language requirements.
Professional experience requirement
At least three years' work experience in a managerial role.
Experience can be from any industry, including the public sector, charitable organisations or the arts.
Minimum academic requirement
You will need a UK first-class or 2:1 honours degree in any subject, or an equivalent overseas qualification.
Exemptions
If you do not meet the minimum academic requirement, you may still be considered if:
You have professional qualifications with substantial work experience, or you do not hold a degree or professional qualifications but you have a very strong employment record demonstrating a high degree of responsibility. If you do not meet the minimum academic requirement, we may require you to complete the Graduate Management Admissions Test (GMAT) which is an internationally-recognized assessment of analytical, numerical and verbal reasoning.
If we require you to take GMAT, we would expect a score of 600 to qualify for our MBA.
Career focus
An MBA is usually undertaken as a means to progress your career. For some, the objective is to prepare for a step-change into a more senior leadership role. For others, the motivation is to switch sectors or to prepare for establishing their own business. We will work closely with you to understand your career objectives and to help facilitate your next move.
We have an excellent track record in supporting our students to progress in their business career in a wide range of organisations, from start-up ventures to multi-national corporations. Our MBAs have progressed to senior positions in finance, banking, insurance, consultancy, IT / telecommunications, government / public sector, professional services, retailing, construction, energy/utilities, education, food/drink, healthcare, leisure, manufacturing, marketing, media/arts, pharmaceuticals, property management and logistics. Around 10% of MBA graduates set up their own businesses.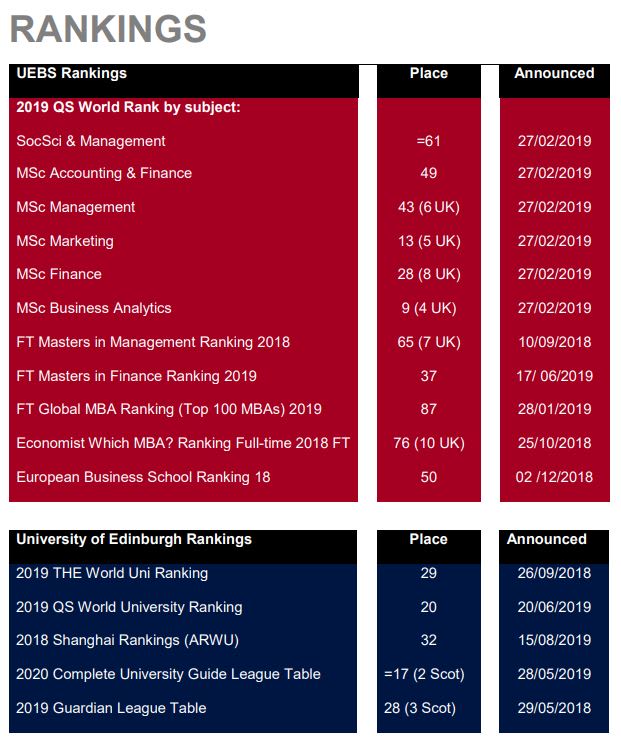 Last updated Sep 2020
About the School
At the heart of a university with a 400 year heritage that is consistently rated one of the world's best, and centrally located in one of Europe's most stunning business and cultural capitals the Univ ... Read More
At the heart of a university with a 400 year heritage that is consistently rated one of the world's best, and centrally located in one of Europe's most stunning business and cultural capitals the University of Edinburgh Business School offers an experience that few can rival.
Read less