International Executive MBA
Home ›
EMBA ›
International Executive MBA
Program Description
1 Degree, 7 Majors, 11 Locations
The International Executive MBA, ranked # 1 worldwide by the Financial Times in 2019, is a practical and intense program developed to provide you with an understanding of the social, economic and environmental aspects of international business, as well as the skills to implement your vision.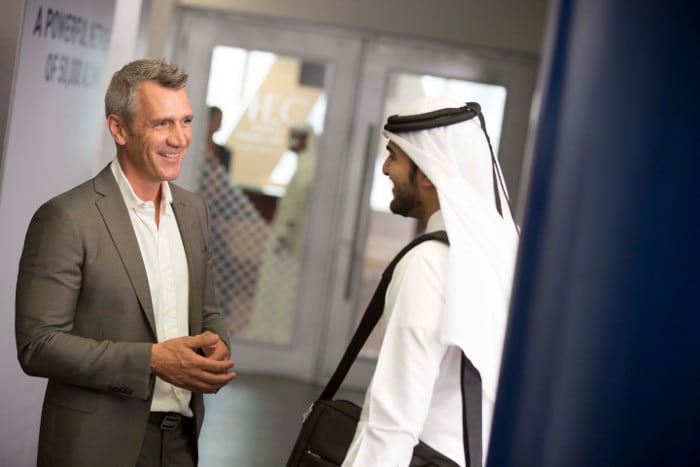 Our special focus on strategy, leadership and the global business environment ensures that you gain comprehensive, innovative, and applicable knowledge and skills.
You will learn not only from top faculty but also from other senior participants who bring a wealth of practical business experience, from a wide spectrum of industries and management functions to the classroom.
Program Benefits
World-class Faculty
11 Locations Worldwide
Convenient Format
Intensive Program
Global Alumni Network
Program Curriculum
The 500-hour curriculum is built around 3 components: 14 Core Courses and Topics in General Management (420 hours, 7 modules of 6 days), a Major (80 hours, 2 five-day sessions), and a Capstone project.
CORE COURSES
STRONG BUSINESS FUNDAMENTALS
The comprehensive core program includes modules on strategy, analysis and implementation, leadership and human resources management.
Our innovative courses are taught by a world-class faculty using diverse learning methods such as lectures, testimonies, case studies, teamwork, workshops, and simulation games.
SPECIALIZATION
7 MAJORS TO CHOOSE FROM
Select 1 of the 7 Majors we offer, each delivered in 2 sessions at 2 different locations to enhance your knowledge of an industry/ region:
Luxury
Energy - one session takes place in Doha
Leading Digital Transformation
Differentiation & Innovation through Services
Entrepreneurship & Innovation
Innovation & Social Business
Entrepreneurship - Project Accelerator
CAPSTONE PROJECT
THE FOCUS IS ON YOU
The Capstone project allows you to apply immediately everything you have learned in the classroom. It is the final deliverable of the HEC Paris Executive MBA program and is a comprehensive exercise carried out during several months of the program. Its purpose is to demonstrate your ability to address and analyze an issue of strategic importance to an organization, from a top management perspective.
The Capstone Project can be undertaken either independently or in small teams.
Admission Process
An HEC Paris education begins with admissions. Our Program Advisors are eager to hear about you: who you are, what you've accomplished and your projects and aspirations for the future. We give our utmost attention to every application, and we accompany you throughout the process.
Interviewers and assessors are looking for evidence of your personal motivation and aptitude, as well as a clear sense of how obtaining an Executive MBA Degree (Executive Master in Business Administration) from HEC Paris will help you achieve your personal and professional goals.
Online application form
The application file is available online and includes:
Personal essays,
Curriculum Vitae,
Your company's organizational chart,
Two referees,
University transcripts,
English Language Exam (TOEIC, TOEFL or IELTS).
Contact your Program Advisor for further details.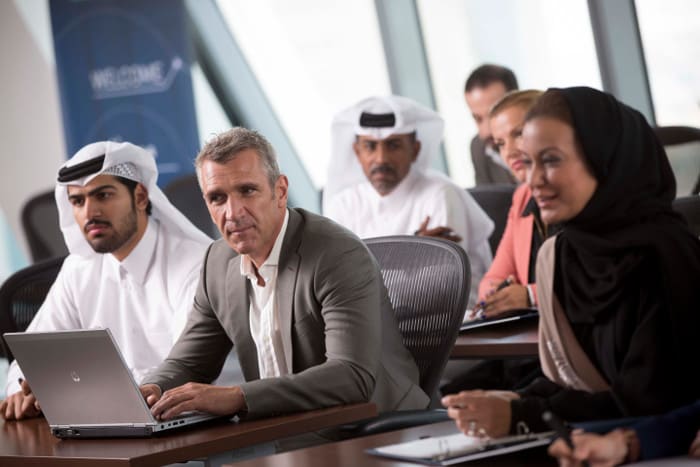 Live a Truly Global Experience Trough Our Mobility Options
The HEC EMBA is all about diversity and offering you an international learning experience. You can take classes in 5 different locations, and further learn in a diversified and multicultural environment when choosing your specialization. Our Majors, delivered in 11 cities around the globe, turn out to be a great opportunity to meet with participants from different countries and background - perfect for networking!
Scholarships
Candidates can qualify for a scholarship of up to 20% once admitted to the program.
Discounts
Discounts of up to 10% available.
Last updated Nov 2019
About the School
HEC Paris joined Qatar Foundation in June 2010, bringing world-class Executive Education programs and research activity to Doha and the region. It is the first European Partner in Education City.
HEC Paris joined Qatar Foundation in June 2010, bringing world-class Executive Education programs and research activity to Doha and the region. It is the first European Partner in Education City.
Read less