Program Description
Introduction to the Programme
The Middlesex MBA aims to develop individuals to manage successfully and ethically across a range of organisations and to critically evaluate and take decisions in their functional areas of expertise. This aim is achieved through:
Encouraging students to gain a thorough and integrated understanding of the various disciplines that contribute to the study of management
Facilitating the application of such disciplines to ensure effective practice
Enhancing personal and professional skills for management and leadership
Specialising in the functional area of emphasis chosen.
Pathways
MBA (Business Excellence)
MBA (Finance)
MBA (Marketing)
MBA (Operations and Supply Chain Management)
MBA General Option
MBA (Business Analytics)
MBA (Innovation and Entrepreneurship)
MBA (Islamic Economy)
MBA (Sustainability and Corporate Responsibility)
MBA (Healthcare Management)
MBA (Project Management)
Programme Objectives
The specific objectives for the MBA are that students will improve their ability to
Enhance and develop previous relevant experience in business and management
Develop the ability to apply previous and newly acquired knowledge and experience to complex business issues in a range of contexts
Prepare students for leadership and transformational roles in business
Develop knowledge, at an advanced level, of organisations, their management and the environment in which they operate, and demonstrate a broad perspective on organisational management and its wider impact on society and the environment
Develop in-depth knowledge in the chosen area of emphasis in marketing, business excellence, finance or operations & logistics or international business or a generalist range of subjects
Operate and manage in a global and multicultural environment
Develop interpersonal and group-working skills
Encourage lifelong learning and personal development.
Why Study the Middlesex MBA?
Internationally recognised London degree, completed here in Dubai.
Based in Dubai, one of the world's most international and dynamic cities.
A multi-cultural cohort that works in a range of industries and businesses.
Outstanding full-time faculty with industry experience based in Dubai.
Invited faculty from the top international businesses.
Four Applied Learning Experiences and Four Executive Skills Development activities – away from the classroom.
International experience with a well established international field trip. Past field trips have been to Milan, Paris, Shanghai, Hong Kong, Madrid and other cities depending on the business theme for that year.
A project-based MBA means that candidates undertake a significant practice-based project at the end of taught content.
11 Exemptions for CIMA Advanced Qualification*.
New emphasis pathways ensure an even wider scope of study and specialization so that students have the opportunity to choose amongst Finance, Marketing, Business Excellence, Operations and Supply Chain Management, Sustainability and Corporate Responsibility, Innovation and Entrepreneurship, Business Analytics, Islamic Economy or alternatively elect for a more general approach.
*CIMA is the world's largest professional body of management accountants. On successful completion of one assessment paper. Middlesex MBA holders are eligible for 11 exemptions for the CIMA professional qualification, and are also awarded the "CIMA Advanced Diploma in Management Accounting" which entitles you to use the letters "CIMA Ad Dip MA".
* "This programme is now in its tenth successful year of running at our Dubai campus. As part of our quality enhancement procedures, we constantly endeavour to update and refresh our curriculum and learning strategies to ensure our programmes offer the latest thinking and skills to drive our students' careers."
Benefits
Comprehensive MBA programme covering key aspects of management and leadership competencies
10-year thoroughbred heritage in Dubai
Highly experienced faculty in academia and practice
Industry interaction with local and international brands
The multi-cultural cohort of seasoned managers and budding entrepreneurs
New emphasis modules enable a bespoke learning journey
Unique international field trips (recently Paris, Milan and Shanghai)
Tailor-made applied learning experiences (ALE)
Cutting edge executive skills development workshops (ESD)
Choice of either real-world; consulting, entrepreneurship or applied research final MBA projects
Programme Content
The MBA programme has six taught modules each worth 20 credit-points in addition to and followed by a 60-credit project. Four of the taught 20-credit modules are core and common across all pathways of the MBA. These relate to the core areas of competence which business professional need to effectively manage their workplace responsibilities. Two further 20-credit taught modules offer students the opportunity to emphasis their studies on their chosen area or discipline. The programme structure is presented below:
Core Modules
The MBA programme has four Core taught modules each worth 20 credit-points in addition to and followed by a 60-credit project. These relate to the core areas of competence which business professional need to effectively manage their workplace responsibilities.
Project (60 Credits) - Compulsory
Marketing Management (20 Credits) - Compulsory
Leadership (20 Credits) - Compulsory
Finance and Economics (20 Credits) - Compulsory
Business Strategy (20 Credits) - Compulsory
Module and programme information is indicative and may be subject to change.
Note: Both core and optional modules are constantly updated and under review. As with most academic programmes, please remember that it is possible that for operational reasons, a module may not be offered in any particular year. Middlesex University reserves the right to vary or withdraw any course or module.
MBA - General
Those who choose to study the MBA General pathway can choose between any of the two optional modules listed below.
MBA - Project Management
Applied Project Management (20 Credits) - Compulsory
Project Management Fundamentals (20 Credits) - Compulsory
MBA - Healthcare Management
Performance Excellence in the Business of Healthcare (20 Credits) - Compulsory
Informatics and Innovation in Healthcare (20 Credits) - Compulsory
MBA - Finance
The Finance specialisation provides a deeper understanding of financial issues in the workplace. You will study the following two modules:
International Finance (20 Credits) - Compulsory
Applied Corporate Finance (20 Credits) - Compulsory
MBA - Marketing
The Marketing pathway focuses on providing you with an in-depth understanding of marketing issues. You will study the following two modules:
Marketing Communications (20 Credits) - Compulsory
Digital Marketing (20 Credits) - Compulsory
MBA - Business Excellence
The Business Excellence pathway provides an in-depth understanding of organisational learning and quality management and how it links to attaining business excellence. You will study the following two modules:
Business Excellence and Quality Management (20 Credits) - Compulsory
Governance and Sustainability (20 Credits) - Compulsory
MBA Operations and Supply Chain Management
This pathway is focused towards providing you with a deeper understanding of how operations and logistics contribute towards improving efficiency, responsiveness and profitability of an organisation. You will study the following two modules:
Supply Chain Management (20 Credits) - Compulsory
Operations Strategy (20 Credits) - Compulsory
MBA - Sustainability and Corporate Responsibility
This pathway provides you with in-depth knowledge and understanding of sustainability and corporate responsibility – essential in any forward-thinking and responsible business. You will study the following two modules:
Governance and Sustainability (20 Credits) - Compulsory
Sustainable Organisation Management (20 Credits) - Compulsory
MBA - Innovation and Entrepreneurship
The Innovation and Entrepreneurship pathway provides an insight reflecting the pioneering and avant-garde spirit of the UAE and the region where SMEs, Family Business and Free Zones are common. You will study the following two modules:
Entrepreneurship and SME Management (20 Credits) - Compulsory
Managing Innovation (20 Credits) - Compulsory
MBA - Business Analytics
The Business Analytics pathway provides an insight into the skills, technologies and practices for continuous exploration and investigation into past business performance, and how to drive business planning. Students will study the following two modules:
Data Analytics (20 Credits) - Compulsory
Advanced Business Statistics (20 Credits) - Compulsory
MBA - Islamic Economy
The Islamic Economy pathway provides an insight into a market sector representing an estimated $2 trillion in consumer spending by nearly 1.6 billion young Muslims worldwide.
Islamic Banking and Finance (20 Credits) - Compulsory
Islamic Management and Marketing (20 Credits) - Compulsory
Teaching
Taught sessions are held at our Dubai Knowledge Park campus (Block 16, 17, 04 and 19) during the working week (Sunday to Thursday) between 6:30 pm and 9:30 pm. For the full-time programme, we hold classes on average 4 days a week (sometimes 3 and sometimes 5) and for the part-time programme, we hold classes 2 days a week for the first year. In the second year for part-time students, there will be classes on average 2 days per week but for some blocks of time 3 and 1 days per week. Additional sessions will be scheduled over weekends or holiday periods and you will receive plenty of notice for these. You can expect to attend one session for 16 weeks per module, except where otherwise specified in the programme timetable. For the Project module in which you will be working individually on your thesis with some supervised elements, there will be a series of additional workshops announced when your cohort commences. Attending scheduled weekly classes is an essential requirement for the completion of this programme.
You will be actively involved in a range of learning, teaching and assessment approach as part of the MBA. Such active approaches aim to put you at the centre of your learning so you are involved and engaged in all aspects of your assessment and learning. Your programme will require your active participation in learning activities and interaction with your fellow as part of a small group. Learning activities may also occur both within and outside the classroom.
Your learning will also be supported by technology. Increasingly your tutors will be using existing and emerging learning technologies to engage you in e-learning activities. Your programme may be facilitated using a variety of media and online tools (My Learning on UniHub, podcasts, wikis, etc.) which could allow you flexible access to a diverse range of online resources, quizzes and learning materials as well as collaborative tools with which you can engage and learn with your peers. You may take part in online discussions and learning activities from wherever you are studying and by engaging with e-learning you will also be developing skills which are essential for your learning and are also highly valued by employers.
These include but are not limited to: working flexibly, communication, understanding of IT, team working and creating shared understandings based on quality resources and access to global expertise.
Beyond the Classroom
All MBA finalists take part in one of several international field trips. These are a week-long, "comprehensive to the extent of exhaustive" and are included in the MBA course fees. In recent years, the Middlesex Dubai MBA has been to France, Italy and China.
Milan: MBA Field Trip Luxury Goods Industry
As part of this Applied Learning Experience Middlesex MBA students spent a week in Milan understanding the industry dynamics and working on a live case study. The MBA teams attended workshops given by two of the most renowned academics in the luxury goods industry. Fieldwork was assigned which was carried out in Milan's most prominent fashion district the rectangle of gold the d'Oro via Della Spiga which covers via Manzoni, Via Sant'Andrea and Via Montenapoleone. Top brand management consultants interacted with the students and spoke on the turnaround strategy of a prominent brand.
The Middlesex MBA group was very positive about the benefits of this learning experience. These are some of the student comments:
"The field trip gave me more insights into portfolio management (product lines), effective communication strategies of brands and retail business models."
"My experience of Milan trip is to learn about how to manage a project independently in real life, Team working, human resources and capabilities management. Moreover, it is a good chance to enhance our emotional relationships with our classmates throughout the project."
"Thank you Middlesex team for also giving us this opportunity to learn out of the traditional classroom setting."
"The faculty were top experts in fashion and we benefitted from their knowledge."
"Fashion is a rapidly changing industry and analysing this industry provided us with many lessons in these fast-changing times."
"There is no better place to study the fashion industry than Milan."
"As an MBA student who is specialising in marketing, I could not ask for a better programme."
"I love the applied learning concept - learning via observing feeling and experiencing."
"The ALE was a fantastic experience. Great learning's from this field trip."
Paris: MBA Field Trip the Luxury Beauty Industry
The Middlesex University Dubai MBA students visited Paris for a week to study the luxury beauty and fashion industry as part of their MBA program. The MBA accompanying tutor for the Paris trip was full of praise for the MDX MBA students' performance in delivering the two projects. Stating; "we were astounded by the Louis Vuitton flagship store, Lafayette, Merci and so many smaller stores and we explored the intricacies of the beauty industry. MBA students interviewed, charmed and tested the perfumes (and the staff), got a make-over, and admired the designer items in an attempt to uncover the secrets behind all the success stories. Their level of participation and devotion to know, to understand, and to apply, deserves all the credit! In between, they had time to enjoy the French cuisine, the history and the old world that is so uniquely Paris".
The MBA students had a lot to say about their Paris experience and here is some of their feedback:
"I would rate the learning experience of ALE4 Paris filed trip as the best value-added experience of my life."
"The field research was one of the best aspects of the ALE4 program. Interacting with business and visiting the stores was really helpful and an eye-opener."
"Being in Paris and studying the industry isolated from the routine back home allowed us to focus and work intensively for a week."
"The branding strategy session for me was amazing and the speakers and facilitators were knowledgeable and made the session interesting and an enjoyable learning experience."
"It gave the theory we learn a practical perspective. Being part of the field trip helped to see the principles of management and strategy in play."
"An international field trip is the key component of a top MBA program. Thank you MDX staff and guest faculty for putting together an awesome learning experience."
"Global exposure and working in another industry in another market is always a challenge. I loved it."
"The Professors from one of Europe's top university in fashion were very good and knowledgeable about the beauty and fashion industry."
"In the case presentation of Lancôme, I was able to rehearse and put into practice my skills in a new industry a market and outside my comfort zone."
"The Cartier case on the communications aspect of a brand was just superb."
Shanghai: MBA Field Trip the Luxury Brands Industry
The Shanghai experience was led by expertise from Fudan University Beijing and involved practically a whole MBA module's worth of material compressed into one week. Delegates learned not only about the status of the luxury brands industry in China but also the heritage and culture of Chinese business and China itself. With a unique blend of classroom learning, guest speakers from luxury fashion retail, discussions and industry visits, teams of MBA students devised their own plans to launch a luxury brand business in China. The Dubai group leader stated "the Shanghai trip was a venture into another world of business altogether. Students learned not only from academics and consultants but also from leading managers in the global luxury brand world. On the industry visits to Blanc Pain and Hermes, the MBA group was shown a window into a world that "us mere mortals" rarely have access to"
The Middlesex MBA students were very positive about the Shanghai trip. This is what they said.
"The Shanghai trip was phenomenal. The instruction was fantastic and brought deep insight into the topic of the luxury market in China. The faculty were passionate about the topic. The theory was vividly displayed when we visited the luxury stores and travelled through amazing Shanghai. A once in a lifetime experience!"
"The trip to Shanghai was great. We learned a lot about the Chinese market, consumer behaviour and the high potential for the luxury industry there."
"This was an invaluable experience! The trip to Shanghai exposed me to China's evolving market. The knowledge of the training staff was exceptional. All the learning outcomes came together in a real-life scenario. This truly puts Middlesex's MBA program a step above in my eyes."
"The ALE trip to Shanghai was an enlightening experience. The theory and practical experience gained from the trip of 5 full days was almost at par with a module that is given over 16 lectures. The course was covered in minute detail explaining not only about the rising economy of China but also the consumer segmentation of luxury consumers in China, as well as the uniqueness of luxury goods and brands."
"The Shanghai trip really adds exponentially to the MBA experience at Middlesex Dubai and it has also helped me realise what an exciting market China is to bring business into."
"The field trip was very interesting and informative. I am seriously thinking about working in the luxury goods industry as a career. Thank you, Middlesex."
The Shanghai field trip can be described as a magical blend of the ancient and modern, and students unanimously voted the trip as unforgettable, extremely memorable and an experience not to be missed. The MBA team sums up the Shanghai trip and indeed all three international field trips as "an MBA in a week" and the very pinnacle and essence of what the Middlesex Dubai MBA is all about.
Team Development and Leadership Skills at the Middlesex MBA
The Team Development and Leadership two-day workshop for the Middlesex MBA students has been traditionally conducted by Kathleen Harrison and Alan Birkett of Katalan UK. This very engaging weekend consists of tasks designed to bring out key learning points that parallel the workplace context and provides a real testing ground for participants to develop new skills and practice them in a safe environment. The team development and leadership experience provide an ideal opportunity for our MBA students to understand their leadership style, the importance of teamwork as well as giving and receiving, feedback. The event helps establish and develop interpersonal and group relationships as well as to and facilitate the breakdown of different backgrounds and cultures and barriers.
Applied Learning
Team Development and Leadership
This two-day total immersion is facilitated by external consultants from the UK and covers leadership and team development. It is staged deliberately early on in the MBA programme so that students can discover the strengths and areas for improvement for both the team and individual.
International Field Trip
This one week trip, lovingly known as the "MBA in a week" gives students the opportunity to work on and experience strategic business issues on a very practical level. To date, students have worked with clients within the Italian and French fashion industry and the luxury good market in China. Field trips in recent cohorts have been to Paris, Milan and Shanghai.
Applied Marketing Project
This event involves the creation of a product or service concept that will meet the expectations of the target market. The workshop covers the application of the theoretical concepts of contemporary marketing to making complex decisions relating to a marketing project, communicating complex marketing ideas, strategies, concepts, and research through impactful presentations using a range of appropriate technology.
Entrepreneurship - Start Your Own Business!
This highly interactive experience covers developing an innovative business set-up, creating a sustainable business model, the elevator pitch in front of our "Shark Tank" and the next steps (options to make your new ventures take flight).
Executive skills
The aims of the 4 (FOUR) Executive Development Skills (ESD) workshops are to provide students with as broad a range of executive managerial skills. Each ESD will be run on the format of a corporate training programme.
The Executive Skills Development sessions in recent cohorts have included:
Data Analytics
This workshop aims:
To achieve a profound understanding of Data Analytics in multiple business domains
To learn important tools in Analytics that can help students solve real-world business problems (SPSS, R, Tableau and others)
To understand various methods of Analytics and their applications from a business perspective (association, classification and prediction)
To expose the participants to real-world case studies in Data Science
Coaching for Performance
This session covers:
Learning to bring a coaching mindset to the work-place to create empowerment
To explore the concept of coaching
To highlight the differences between mentoring and coaching
To give students the opportunity to experience the difference that coaching brings
Project Management
This programme includes:
Projects and project management strategy,
Skills required by the project manager and project risk assessment
Planning projects: procurement and organisation; time, cost and quality
Planning projects: methodologies, communications, HRM issues; project execution and control
Project closure and evaluation; project success and failure
Cross-Cultural Awareness for Managers
This experience explores:
What is culture?
A cultural perspective on leadership, negotiation, decision making and communications
Managing cross-cultural teams
Entry Requirements
The criteria for admission to the programme are as follows:
Applicants must demonstrate a minimum of two years of continuous workplace experience gained in a managerial or professional job following graduation.
Holders of graduate-level professional qualifications may also be admitted and are encouraged to apply.
Applicants without an honours degree need to demonstrate relevant work experience.
We welcome applicants from small and medium-sized businesses (including family businesses) as much as we do applicants from large corporations. Workplace experience should generally be within a managerial or professional role with responsibility for people, finances and other resources. We assess each application individually.
English Language Requirements (Postgraduate)
All programmes at Middlesex University Dubai are taught in English and applicants with previous education outside of English-speaking countries (such as the UK, the United States, Canada, England, Ireland, Australia, New Zealand), must demonstrate English language proficiency as follows:
IELTS Academic: 6.5 (minimum 6.0 in each band)
TOEFL Internet-based: 87 (21 in listening & writing, 22 in speaking and 23 in reading)
PearsonPTE Academic: 58
PearsonPTE General: Level 4
Future Careers and Employability
What are the career options with an MBA?
Our MBA will benefit your career prospects by giving you the ability to think and lead strategically, apply knowledge in real-time in the real world, gain an understanding of other sectors and comprehend the skills involved in a senior management role. If you are already in employment, the work-based projects you complete will also make a significant contribution to the achievement of your organisation's work objectives.
As 81% of employers value employability skills over type or class of degree, it's essential you develop these while studying and utilise our Employability Service on campus. We provide one to one support with job hunting, CVs, covering letters and interview techniques. We offer part-time, internships and graduate roles plus webinars, workshops and events and support service to those wishing to start their own business.
Last updated Feb 2020
About the School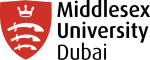 Middlesex University is a dynamic university with a reputation for innovation and excellence in teaching and research. Middlesex University Dubai is the first overseas campus of the internationally re ... Read More
Middlesex University is a dynamic university with a reputation for innovation and excellence in teaching and research. Middlesex University Dubai is the first overseas campus of the internationally renowned Middlesex University in London. The campus, which opened in January 2005, has over 3,000 students from over 100 nationalities and offers undergraduate and postgraduate programmes in a wide variety of subject areas. We are a truly global university committed to meeting the needs and ambitions of a culturally and internationally diverse range of students, by providing challenging academic programmes underpinned by innovative research, scholarship and professional practice. We prepare our students to be professional, skilled individuals fitted for the modern world, committed to lifelong learning and able to contribute to the communities in which they live and work.
Read less