Read more about this program on the institution's website
Program Description
Due to COVID-19, all lectures at IUBH University of Applied Sciences will occur in a virtual classroom until further notice. We aim to ensure that the current special circumstances will not result in students being disadvantaged in their course of study.
Career springboard MBA
Information technology is constantly evolving, and companies are always faced with new tasks and challenges. Business intelligence, social media, cloud computing, or IT security are just a few of the themes here.
Have you already gained some professional experience after completing your first degree and now you want to expand your IT knowledge and general management skills to reach the next level in your career?
Then our MBA with a major in IT Management is the right choice for you. As an IT manager, you ensure that your company's data, information, and knowledge are used optimally in order to achieve and develop strategic goals. As an interface between business management and information technology, you are responsible for managing interdisciplinary projects with partner companies, associations, or state organisations.
Facts & Figures
Degree:
Study model:
Duration:
Master of Business Administration (MBA)
on Campus, Blended, Online
3 semesters
Campus
Tuition:
Admission:
Bad Honnef, Berlin
*from 1.177 Euro; full-time price on campus
(online is 2.000 euro less per semester with scholarships available)
Bachelor's degree, professional experience, proof of English language skills
What you will learn from us
The MBA gives you expert and general management know-how and will help you develop your individual methodical skills:
You will deepen your knowledge in the areas of business management and leadership through academic and practice-oriented modules.
You will actively work on your soft skills such as communication skills and intercultural awareness.
You gain insights into IT governance and information security concepts.
You learn about the art of deriving IT strategies from existing business processes.
You examine how key IT services are implemented across different people, departments, processes, and technologies.
You develop methods for the conceptual design of high-quality software.
And you receive training in the management of projects according to international standards.
Course of study at a glance
1st Semester
Leadership
Innovation and Entrepreneurship
International Marketing
Performance Management
Corporate Finance
Managerial Economics
2nd Semester
Elective courses (choose 4 out of 5)
IT Project Management
IT Service Management
IT Governance and Compliance
IT Architecture Management
Software Engineering - Basics and Principles
Regular courses
Strategic Management
Operations and Information Management
3rd Semester
Business Ethics & Corporate Governance
Capstone Project
How does the course of studies work?
In the second semester of your MBA programme IT Management, you choose your major and set your personal focus.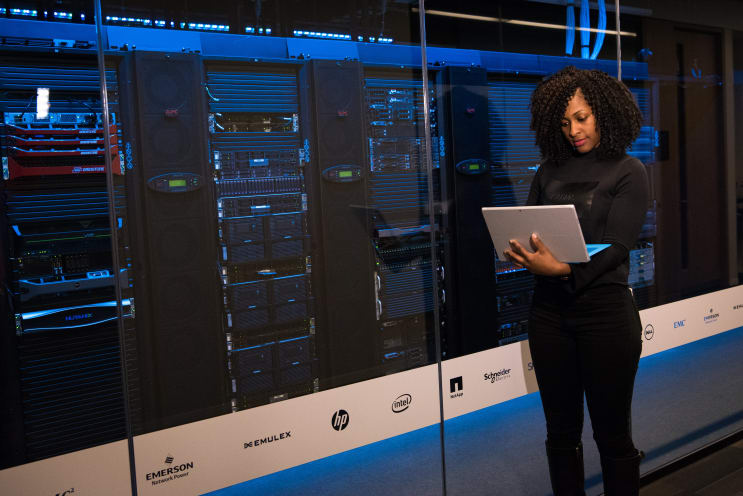 Where you will be studying
You can pursue your MBA degree at the two German campuses in Bad Honnef and Berlin and online.
Career Possibilities
As an IT manager, you are among the most sought after professionals in the industry, the public sector, and government organisations. After graduation, for example, you can work as a:
IT Project Manager
As an IT Project Manager, you are responsible for the management of IT projects and are always up-to-date on the latest developments. You can intervene if necessary on the basis of your specialist knowledge. You largely determine the project processes in the IT area and can create guidelines and policies that facilitate the further course of the project. You also take into account the needs of the company and create documentation during the project. Consultation with specialist departments and project managers is also part of your job.
Scrum Master
Agile work is becoming increasingly important. And Scrum is often used as a method for keeping track of a lot of projects. As a Scrum Master, you keep an eye on the big picture, moderate meetings such as Daily Scrums or 14-day review and planning meetings. You design retrospectives at the end of a sprint, where the team examines the processes again further optimises them. In addition to having specialist Scrum know-how, Scrum Masters have to be active listeners with a lot of empathy, diplomacy, life experience, and organisational skills.
HR Specialist Tech Recruiting
While classic recruiters mainly handled the publication of job advertisements and management and pre-selection of applicants, Tech Recruiters today focus on actively finding and recruiting talent and looking ahead to the future. This includes networking at job fairs and creating talent pools, as well as formulating and placing job advertisements and pre-selecting applicants.
Your career? International!
Whether it is at a global medium-sized company or at a multinational corporation abroad – the IUBH prepares you well for the global job market. The numbers speak for themselves: 3 out of 4 of our graduates work in an international environment, and every third person works abroad.
Admissions Requirements
Academic Requirements:
Completed undergraduate study from a public or officially recognized university/higher education institution (180 ECTS for 1,5 years MBA and 210 ECTS for 1 year MBA).
A final grade of at least "Satisfactory" or grade C (as commonly used in the US and Canada).
Work Experience:
At least one-year work experience before the start of the IUBH Online Master program (achieved after previous studies).
Plus: At least two years of work experience when you want to graduate.
English Level:
Proof of English skills.
If English is your native language or you graduated from an English-speaking school/university, you do not have to prove your English skills.
Admission process
Have you chosen a degree programme? Apply now! We will take you through the admission process step-by-step, and look forward to getting to know you better.
EU & EEA applicants
Upload your application at www.iubh.de/onb
Conduct Admission Interview
Receive a letter of admission & tuition contract
Send back signed tuition contract
Start your studies at IUBH
Non-EU applicants
Upload your application at www.iubh.de/onb
Conduct the admission interview
Receive the offer letter
Make a deposit and open blocked account
Receive the letter of admission & tuition contract
Receive your visa and start your studies
Required documents
After you submit your online application, we will check if you fulfil the entry requirements and will contact you within two weeks. Please be sure to send with your application all of the documents listed below:
CV
Letter of Motivation
Passport Copy
Academic Diplomas and Transcript of Records
Proof of English Proficiency (IELTS/TOEFL/PTE/Cambridge A or P)
Proof of work experience (if any)
Hospitality Management | A brief explanation from IUBH Professor Legrand from IUBH on Vimeo.
Last updated Nov 2020
About the School
IUBH University of Applied Sciences offers on-campus degree programs that have a strong international focus: all courses are taught in English, the curriculum is aligned to the future needs of interna ... Read More
IUBH University of Applied Sciences offers on-campus degree programs that have a strong international focus: all courses are taught in English, the curriculum is aligned to the future needs of international companies. Professors and students from over 85 nations meet and work together on–campus.
Read less