Master of Business Administration (MBA) and Dual MBA/DBA
Home ›
MBA ›
Master of Business Administration (MBA) and Dual MBA/DBA
Read more about this program on the institution's website
Program Description
DUAL DOCTOR OF BUSINESS ADMINISTRATION (DBA) AND MASTER OF BUSINESS ADMINISTRATION (MBA)
The European Business University of Luxembourg's Dual Doctor of Business Administration (DBA) and Master of Business Administration is an award of two professional degrees, the MBA and Doctoral degree. The Dual program is designed to enhance executive and professional practice through the application of theory and research into complex issues in business and management. By pursuing the combined program, candidates have a distinct advantage of completing a lower course load and the Dissertation as a substitute for the MBA final case studies and Capstone Project.
The online DBA/MBA allows working professionals the possibility of obtaining an MBA and a terminal degree while working full time regardless of geographic location. The infrastructure provides an interactive and intercultural global learning environment with distinct advantages. Earn your MBA/DBA completely online and take advantage of the opportunity to specialize in one of four concentrations: Management, International Management, Finance, or Entrepreneurship.
TEACHING METHODS AND STYLE
Professionals with an EBU MBA or MBA/DBA degree are able to enhance their personal portfolio. The options of an online education fit well into an already busy schedule. In addition, the best business degrees are lived or shared experiences. The real-world experience presented by serious academics begins in year one as you build your general management knowledge and gain valuable experience from colleagues and Professors. Dive into complex managerial issues with this series of elective courses and gain insight into the perspectives of a senior manager or leader while understanding the larger context of management. Develop managerial skills including management in a global context.

Students will be invited to participate in campus week events and seminars once before they graduate. However, participation in more than one campus week is also allowed and encouraged. During campus week, students will complete end of term exams, visit companies and notable industries, and socialize and network with each other.
Luxembourg is not only a financial hub but a multicultural city and seat of many European institutions. Between tradition and modernity. You will be able to enjoy different landscapes of nature parks, medieval castles, and numerous hiking or mountain biking trails throughout the region. Luxembourg and the Chateau Wiltz welcome you.
WHY CHOOSE THIS COURSE?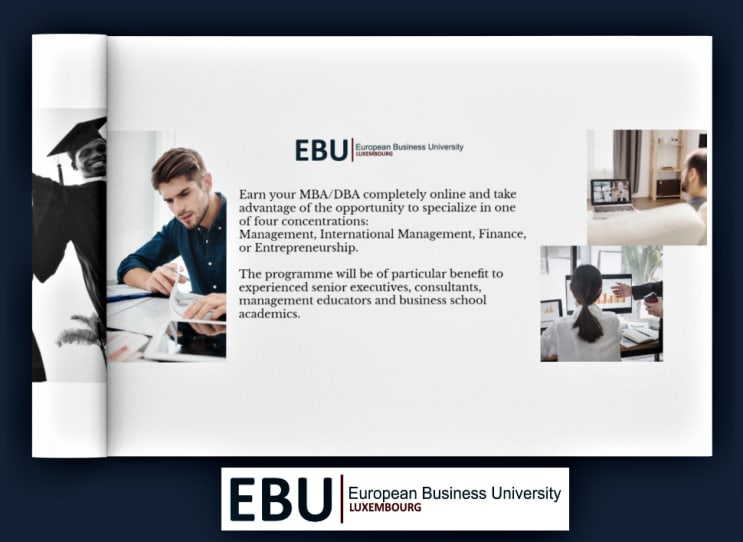 CAREERS
Management Analyst
C-Level Executive
Market Research Analyst
Professor
Economist
Consultant
Finance Manager
Marketing Manager
Operations Manager
Financial Analyst
DUAL PROGRAM DBA/MBA PROGRAM LEARNING OUTCOMES
The European Business University of Luxembourg's DBA/MBA Dual Program will enable you to:
Develop a sound understanding of the relevant conceptual and theoretical underpinnings of your chosen area of research into business and management • Have a detailed understanding of applicable techniques for research and advanced academic and management enquiry
Create and interpret knowledge through original research. Enhance both your performance as a reflective practitioner and your professional practice
Develop personal, consultancy and research competences to undertake rigorous research at an advanced level that contributes to theory and practice in business and management
Demonstrate professionalism and leadership
Apply knowledge and skills to solve multiple and varied business problems
Demonstrate a global perspective
Possess the skills to integrate business concepts from various disciplines
Have an appreciation for ethical decision-making.
FACTS
Duration: 36 months (36 months of study, 12-36 months for Doctoral Dissertation)
Credits: 242 ECTS
Format: Full-time or Part-time
Language: English
Start dates: October, January, March
Admission Period: Year round
Dual Program MBA/DBA Tuition Fee: €46,000
PROGRAM STRUCTURE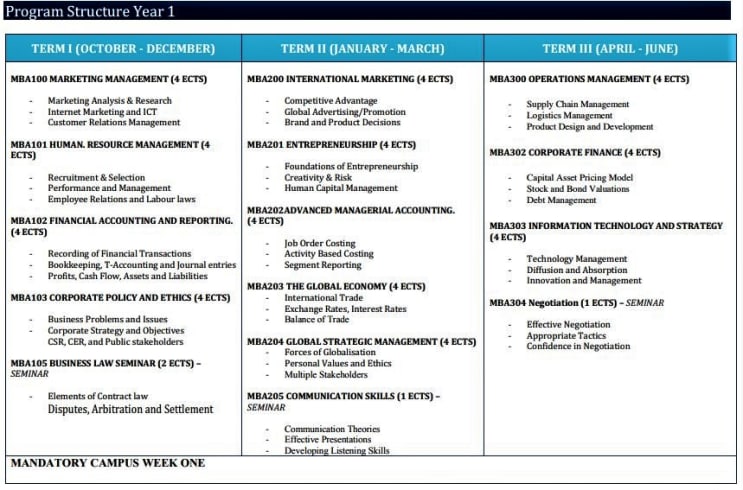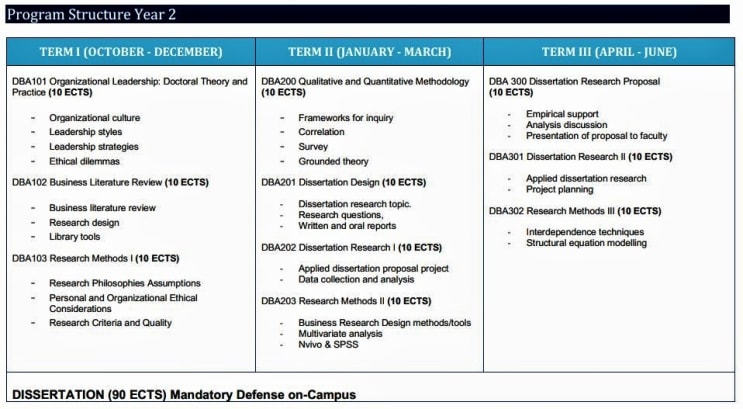 ADMISSION REQUIREMENTS
• Bachelor's degree in business, Management or a related area
• At least 7 years working experience, thereof 3 years managerial experience
CONTACT US TODAY!
(https://ebu.lu/)
It is possible to earn your degree in the comfort of your own home and still have time for yourself and your family. The admissions office is here to help you, for additional information or to see if you qualify for admissions please contact us.(https://ebu.lu/)
Last updated Nov 2020
About the School
European Business University of Luxembourg is dedicated to achieving and sustaining a tradition of academic excellence by ensuring it is at the forefront of evolving innovation. EBU strives to become ... Read More
European Business University of Luxembourg is dedicated to achieving and sustaining a tradition of academic excellence by ensuring it is at the forefront of evolving innovation. EBU strives to become of the benchmark of world-class quality education by drawing on the talents of an actively supported team of internationally recognized staff and faculty of women and men from transcultural backgrounds.
Read less