Master of Business Administration
Home ›
MBA ›
Master of Business Administration
Read more about this program on the institution's website
Program Description
Graduate School of Business
Nazarbayev University's Graduate School of Business (NU GSB) is committed to shaping future leaders by providing relevant and practical master's level courses for business professionals who want to transform the global marketplace.
The Graduate School of Business currently offers three academic programs:
Full-time Master of Business Administration
Executive Master of Business Administration
Master of Science in Finance
As the leading business school in Central Asia, NU GSB designed each program utilizing the latest innovations in technology and teaching. With quality education, impactful research, international orientation, and collaboration with global business partners, we have built engaging programs for applicants with at least two years of previous business experience. Once enrolled in our master's level business programs, students will work together with our world-class faculty of business leaders with decades of experience in practical and theoretical concepts. Our Graduate School of Business has created strategic partnerships with Duke University's Fuqua School of Business to produce accelerated coursework that not only enhances leadership skills but also addresses the obstacles facing the modern working student. Students can choose from part-time and full-time delivery formats allowing working students to successfully balance their family and career while earning a degree. Moreover, business executives and entrepreneurs can develop their leadership skills through shorter, non-degree programs.
©Nazarbayev University
About the program
Our MBA is a full-time program that plays a key role in our mission to develop the next generation of business leaders. Intended for early to mid-career professionals, our MBA program provides you with the skills, knowledge, and mindset needed to manage effectively in global business environments.
The starting point for the development of the curriculum is the set of competencies required by future global leaders. Such leaders need to understand the business risks and opportunities of social, political, cultural and environmental trends. They also have to learn to manage production capacity in a world in which traditional resources are dwindling and to lead in the face of complexity and ambiguity. They also have to understand the ethical basis on which business decisions are being made. They need to be able to identify all the stakeholders who have an influence on their organization and to engage in effective dialogue and build partnerships with these stakeholders.
Our MBA program relies on multi-disciplinary faculty and offers an unparalleled ability to help you go beyond the basics by exposing you to cutting-edge research and top business leaders.
You will also learn to be flexible, to find creative ways of solving problems, to balance short- and longer-term considerations, to communicate and engage in effective dialogue, to negotiate and develop partnerships. Your leadership skills will also be developed through project-based learning and other forms of experiential learning, enhanced by structured reflection and coaching.
General information
Campus: Nur-Sultan, Kazakhstan
Language: English
Delivery mode: Full time, on-campus
Duration: 15 months
Why MBA at NUGSB?
World-class faculty

NU GSB professors are thought leaders in their discipline. Our faculty have graduated from top universities from around the world (Stanford, Wharton, INSEAD), and they conduct research on modern issues facing business and industry.

A solid foundation

The core curriculum of the MBA program emphasizes general management and builds a strong foundation that will assist students in their career progression.

Strong infrastructure and facilities

Nazarbayev University students have access to the world's premier business publications through the NU Library. The university's classrooms offer the latest technology and students use these tools to advance their learning and research.

Become a leader

Immerse yourself in a program designed to grow and educate the next generation of entrepreneurs and business leaders.

International residency

a two-week international residency to gain Global Business Experience.

Place matters

Study in the dynamic, innovative and rapidly growing city of Nur-Sultan at Nazarbayev University's modern campus.

Employment

Our career services are designed to help with your career planning and job search.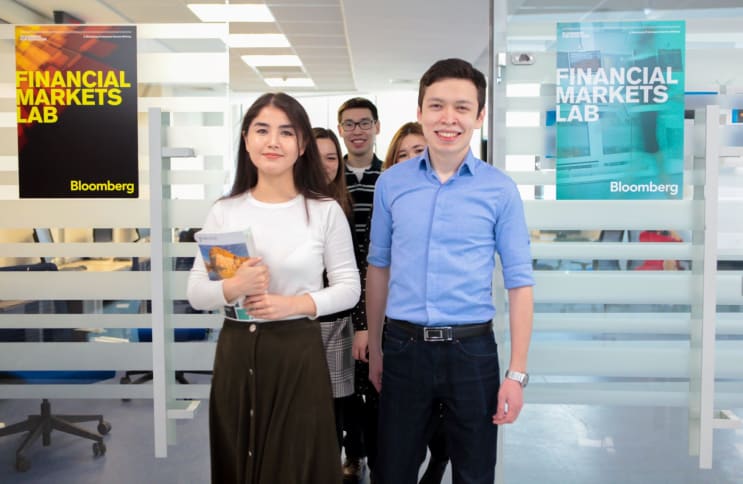 ©Nazarbayev University
Program outline
The NUGSB MBA is a 16-month program that begins in September and confers degrees in December of the following year.
The program is designed with the rigor of a traditional top tier MBA program, accelerated to match the intensity and pace of the business environment in Kazakhstan.
Beginning with a week of Orientation, you will take 16 rigorous core courses that build a foundation of business knowledge and prepare you for the 6 elective courses that will hone specific business skills and cover focused topics specific to your personal or career goals.
The curriculum is focused, and intense. You will enroll in one course at any given time. All courses are taught in two-week modules – ten teaching days – with small breaks to prepare for exams; two courses, on average, are covered in the span of 5 weeks. Following the core courses, you will have a choice of 6 out of 12 electives, which will allow you the opportunity to tailor the program to pursue topic-specific professional interests and preferences. To further enhance your MBA experience, your curriculum will be augmented by the Distinguished Speaker Series and Practicum.
Consequential Leadership
Business Mathematics and Business Computer Application
Financial Accounting
Probability and Statistics
Business Communication
Global Financial Management
Managerial Effectiveness
Managerial Economics
Marketing Management
Foundations of Strategy
Managerial Accounting
Operations Management
Macroeconomics
Decision Models
Corporate Finance
Entrepreneurship
Negotiations
Financial Statement Analysis
Entrance requirements
Valid English Language Proficiency Tests Report (IELTS or TOEFL)
An overall IELTS test score of 6.5 (with sub-score requirements no less than 6.0), or TOEFL IBT score of 79-93 (with sub-score requirements no less than 19-23). The test scores must be valid on the application submission date.
Mathematical skills as demonstrated by ALEKS test/GMAT or GRE
ALEKS test will be administered by the School in Astana, Kazakhstan.
A minimum GPA of 2.75 out of 4.00
Strategic partner
Duke University's Fuqua School of Business
Cass Business School
City, University of London
Other strategic partners of Nazarbayev University
The National University of Singapore, Lee Kuan Yew School of Public Policy (Singapore)
The University of Pennsylvania (USA)
The University of Cambridge (UK)
Colorado School of Mines (USA)
The University of Wisconsin-Madison (USA)
The University of Pittsburgh Medical Center (USA)
The Lawrence Berkeley National Laboratory (USA)
The Oak Ridge Associated Universities (USA)
Last updated Jul 2020
About the School
Located in Nur-Sultan City, Kazakhstan, in Central Asia, Nazarbayev University is a research university with growing international renown combining education and innovation on a state of the art 21st- ... Read More
Located in Nur-Sultan City, Kazakhstan, in Central Asia, Nazarbayev University is a research university with growing international renown combining education and innovation on a state of the art 21st-century campus. NU scholars conduct research in a variety of fields and bring the most ambitious projects to life. Research is supported by internal and external funds each year and carried out in modern laboratories. English as the language of instruction and research at Nazarbayev University, admission and progression systems are entirely merit-based.
Read less