Master of Business Administration
Home ›
MBA ›
Master of Business Administration
Program Description
The College of Business Administration programs at Savannah State University is accredited by AACSB International which is the most prestigious and rigorous accrediting body in the world. Less than five (5) percent of the business schools in the entire world have achieved this accreditation. AACSB accreditation reflects academic excellence and a commitment to continuous improvement. The College of Business Administration at Savannah State University is dedicated to delivering quality undergraduate and graduate business programs to a diverse student population. Through innovative instruction, mentoring, applied research, and community involvement, the College develops business graduates who add value to the public and private sectors.
Who We Are...
Remaining current in their fields by actively engaging in research and scholarly work, our faculty provides a rigorous and rich educational experience in business administration. The majority of our faculty members have earned Ph.D.'s from internationally recognized institutions and possess significant business experience that enables them to effectively teach in their business disciplines. Dedicated to student learning, our faculty members employ a wide variety of instructional techniques to enhance student overall education experience.
Evening MBA program...
Flexibility
Students choose the number of courses to fit your schedule. Classes are offered Monday through Thursday evenings, meeting once per week. Evening MBA classes are available during fall, spring and summer semesters.
The length of the Evening MBA program depends on how many classes a student completes per year. Typically, students earn their MBA in two to three years.
MBA Courses...
MBA core courses provide an overall understanding of the functional areas of business. Our curriculum and instruction are tailored with your career goals and interests in mind.
Business & Professional Communications
Statistics and Quantitative Methods
Management Information Systems
Accounting and Decision Making
Organizational Theory & Behavior
Managerial Economics
Managerial Finance
Marketing Management
Organizational Leadership
Strategic Management
Admissions & Application...
Admission to the MBA Program is competitive, and decisions are made on a rolling basis. This means that application packets are reviewed when they are complete, and decisions are made in a reasonable time period. Seats are filled as decisions are made, so candidates are encouraged to complete their applications as soon as possible.
The Program looks at a variety of criteria that measure the candidate's potential for being a successful graduate student and business leader. Factors used in determining admission include:
Past academic performance
Current Official GMAT or GRE Score*
Professional work experience
What's Required?
A complete application includes the MBA Application (including $25 application fee and one 500 - 1000 word required essay), transcript from each college/university attended, three letters of recommendations, current resume, immunization certificate, and official GMAT/GRE scores* from within the past five years.
*Pre-MBA Program
The Pre-MBA program is designed for students who do not have time to prepare for or do not wish to sit for either the GMAT or the GRE. The Pre-MBA program requires 20 hours of seat time and prepares the student for the rigor of work in the MBA program. Successful completion of the Pre-MBA program allows the student to enter the Savannah State University MBA program.
Non-U.S. resident applicants may also be required to submit an official Test of English as a Foreign Language (TOEFL) score and translated academic transcripts. We strongly encourage international candidates to apply early; Classes start in January (Spring) and August (Fall).
Last updated Feb 2018
About the School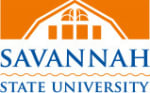 For 128 years, Savannah State University has been an important part of higher education. As the oldest public HBCU in Georgia and the oldest institution of higher learning in the historic city of Sava ... Read More
For 128 years, Savannah State University has been an important part of higher education. As the oldest public HBCU in Georgia and the oldest institution of higher learning in the historic city of Savannah, SSU has served this community with distinction while meeting the educational needs of an increasingly diverse student population.
Read less
Accreditations