About IPADE
IPADE is an institution focused on knowledge creation and exchange. We are an organization that is constantly evolving and changing to reflect the modern world.
Our programs are focused on responding to the challenges of an ever-changing, globalized world. IPADE is not limited to technical expertise or to a single business area. We are an educational institution in pursuit of knowledge, truth, and the promotion of a fundamental human-focus in the business leaders that we train.
Using the Case Method and a student-centered teaching model, we promote the analysis, diagnostic, and planning abilities that allow managers to reflect on their businesses and on themselves to effectively make decisions and humanely lead their organizations.
IPADE at a Glance
History
IPADE Business School was founded in 1967.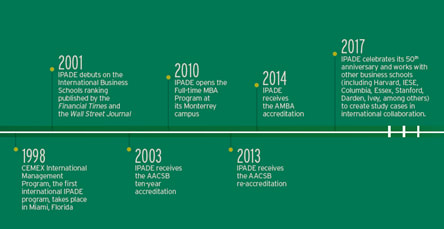 Faculty
Our 11 academic departments engage in the education of participants from the different IPADE Programs.
Alumni
Over 37,000 students have graduated from IPADE's classrooms It is a select group of businesspeople from different sectors, with diverse interests, that share IPADE as a nodal point; for IPADE its graduates constitute the most important value.
Accreditations IPADE's quality and consistency have allowed it to obtain three of the international accreditations that are awarded to the world's most important business schools. Advisory Committee IPADE Business School has promoted the international dialogue by involving two of the most prestigious business schools in the world: Harvard Business School and IESE Business School.
Methodology
Using the Case Method, participants perfect their managerial skills by exercising the detection, analysis, and diagnosis of real business problems.
The Case Method uses academic materials (business cases) based on real organizational challenges are analyzed from different perspectives. This process is divided into three stages: personal study, teamwork, and a plenary session led by an expert professor.
Drawing on the cases and accompanying technical notes, participants acquire the necessary knowledge about the fundamentals of business management. Guest speakers and visiting professors provide additional hands-on inputs, expertise and life experience.
1. Personal Study
Participants use their personal experience with the situation outlined to assess the issues and make an action plan.
2. Teamwork
The team of participants combine their personal and plenary analysis to make decisions as though they were the company's board of directors.
3. Plenary Session
The case is analyzed using input from the whole class under the guidance of an expert professor.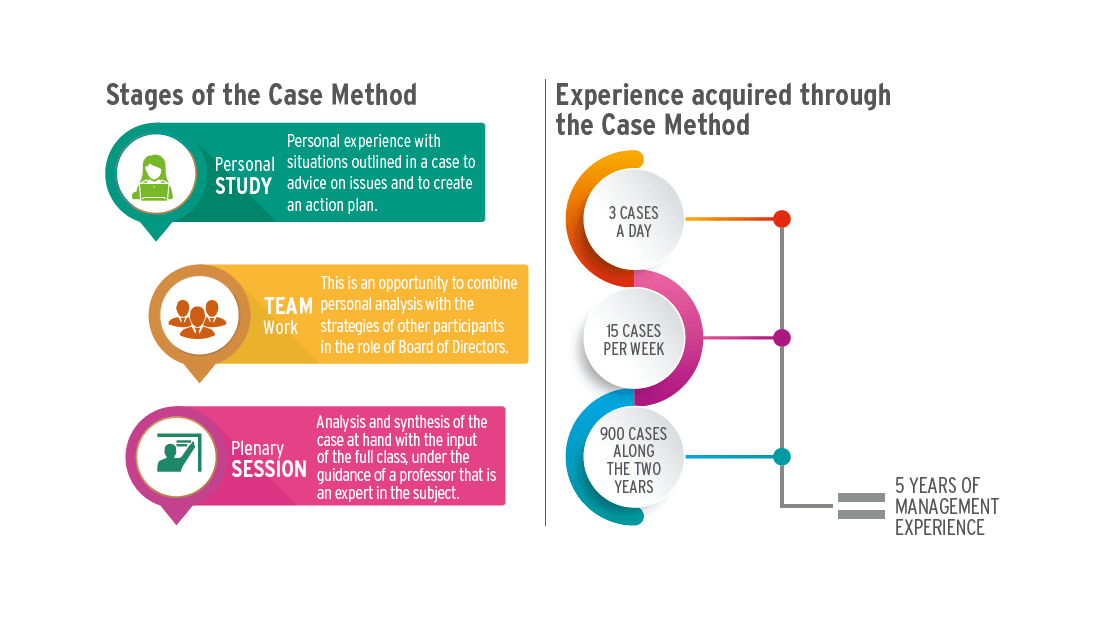 Social Work
El Peñón Foundation and Colegio Montefalco are two educational institutions for disadvantaged families that live in eastern Morelos state. Both schools are part of IPADE's social responsibility initiatives. The Institutional Development Department connects both participants and alumni with the specific initiatives promoted by the schools to help support the education of children, adolescents, and their families.