The Faculty of Business and Social Sciences combines Kingston Business School and the School of Law, Social and Behavioural Sciences. Together they cultivate critical thinking and a problem-solving approach to learning, with an international outlook.
Whilst studying here, you can explore society's biggest questions from a variety of subject perspectives. You can gain insight from industry, public sector and community services professionals, as well as research-active academics with specialist areas of expertise. Crucially, this enables you to engage in the bigger picture and graduate with the transferable skills required to prosper in challenging careers.
Kingston Business School has been awarded the prestigious international accreditation by the AACSB (Association to Advance Collegiate Schools of Business) in recognition of the excellence of our business education. This accreditation has been earned by just 5% of the world's business schools. Many courses are also accredited and recognised by professional bodies, including the Association of MBAs and the Chartered Institute of Marketing.
The School of Law, Social and Behavioural Sciences offers a range of psychology courses that are accredited by the British Psychological Society (BPS). You can also choose to study one of only a few degrees in the UK offering a specialist forensic psychology qualification. Our politics and human rights courses are taught by international practitioners including the ex-Campaigns Director of Amnesty International UK and current Director of the British Institute of Human Rights.
We are continuously innovating the way business and social science students think and problem-solve, in order to meet the demands of our rapidly-changing world. Study here and be a part of shaping this world.
Kingston Business School
We believe that professional success is shaped by honing and developing personal capacity and skills, as well as the academic framework of knowledge in order to drive development and achieve success. Through vocationally rich, employer engaged and research-informed courses, we work alongside our students to help them meet personal goals and career ambitions; and become recognised for their distinct approaches and attitude to business.
Accreditations
Kingston Business School has been awarded the prestigious international accreditation by the AACSB (Association to Advance Collegiate Schools of Business). This accreditation has been earned by just five per cent of the world's business schools and recognises the high quality and standard of our business education.
Many courses are also accredited and recognised by professional bodies, including the Association of MBAs (AMBA), the European Foundation for Management Development (EFMD) EPAS, the Chartered Institute for Professional Development (CIPD), the Chartered Institute of Marketing (CIM) and the Royal Institution of Chartered Surveyors (RICS).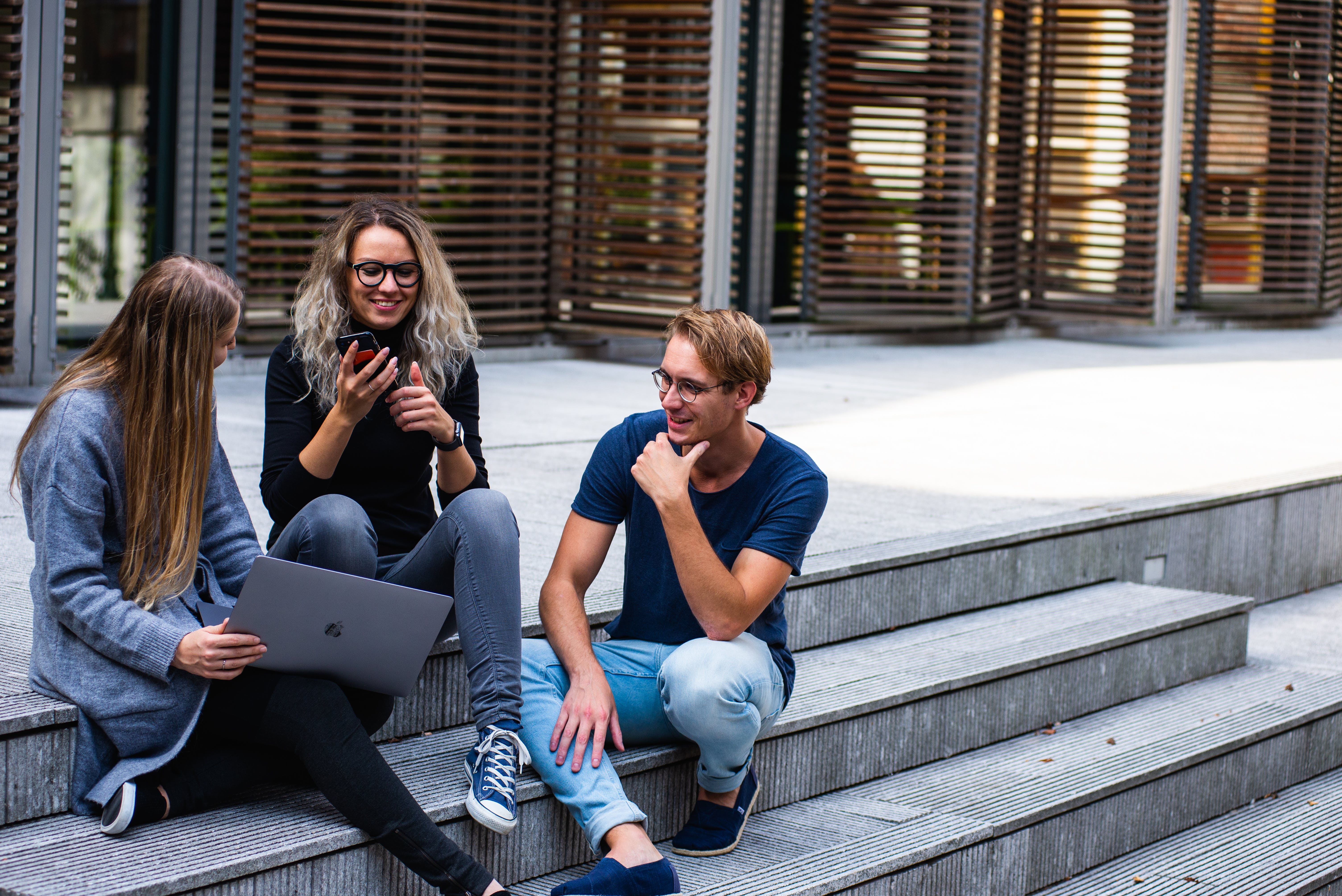 Why choose Kingston Business School?
Our students are sought after, future-focused leaders who actively challenge, change, create and collaborate in order to contribute to society and impact upon the economy as business influencers and job creators.
Challenge
We encourage our students to challenge perceptions and perspectives. We aim for our students to actively analyse, question, interpret and innovate.
Change
At Kingston Business School are continually looking ahead to interpret the future and supporting people to meet emerging challenges. We motivate students to be problem solvers and influencers, who can get the best out of themselves and others.
Create
As the impact of digitalisation and IT impacts upon the business environment and change continues to affect our future, we prepare students to cultivate and enterprising mindset to identify and embrace potential opportunities.
Collaborate
We equip students to develop their creative capacity and a collaborative attitude to work successfully within multidisciplinary teams and environments.
Ready for Business: our courses
We design our courses together with leading technology, manufacturing, service and financial organisations to ensure they align to the issues, challenges and needs of today's business. You gain the understanding, insight, skills and tools for real-world opportunities on graduation.
Vision: Innovative, entrepreneurial and life-changing
To be recognised globally for an innovative and entrepreneurial approach to education and research creating and realising life-changing opportunities.
Mission: Led by research-informed teaching
To create the best possible environment for staff and students which is diverse and inclusive, led by learning, entrepreneurial, and research-informed.
Values: Excellence in staff and student experience
Excellence: We value excellence in staff and student experience, learning and research.
Innovation and creativity: We value innovation, creativity and entrepreneurial thinking in the generation and implementation of ideas.
Respect: We value diversity, collegiality, and responsibility.
What sets us apart?
Kingston Business School has four distinctive features that combine to set it apart from other universities:
Employability
Kingston Business School students are in high demand in the workplace. The relevance of our courses, our close ties with industry, the excellence of our Careers and Employability Services, networking events with business leaders and work placements mean our students are well-positioned for employment.
Entrepreneurship
Entrepreneurial thinking is in our DNA. Whether you want to be part of a start-up, or drive innovation within an organisation, at Kingston Business School you join a top business school for entrepreneurship.
We're rated the top most successful UK higher education institution for graduate start-up companies (Higher Education Business and Community Interaction Survey 2020/21). QS TopMBA.com rates us number one in the world for MBA graduate start-ups.
From our Kingston Business Incubator to our work with the Small Business Charter Award scheme, at Kingston Business School we are trailblazers in nurturing and developing innovative thinking. We are also home to the internationally-recognised Small Business Research Centre.
International rankings, accreditation and membership
Kingston Business School is one of only 5 per cent of the world's business schools to hold accreditation from AACSB International - the Association to Advance Collegiate Schools of Business.
We hold accreditation from a number of the largest and most influential business school accreditation associations.
Facilities
Our purpose-built £26 million Business School was designed and constructed with sustainability in mind to reflect our commitment to inspiring, educating and developing students who will take their experiences of sustainable behaviour into their future work and careers.
We have cutting-edge learning facilities where you can put theory into practice. Our state-of-the-art Bloomberg trading room is a simulated trading room for aspiring financiers. Our brand new Kingston Business Incubator is a purpose-built room for students working on business ideas.
Your study is supported by online learning tools such as the student intranet and Canvas. And our campus is situated 30 minutes from the heart of central London, giving you access to the world's leading financial and business hub, all while based in the capital's safest and happiest place to live.
International Fortnight
All Kingston MBA students come together for our annual International Fortnight. Taking place on campus, during International Fortnight you will study and socialise with MBA and Executive MBA students based at both our Kingston and Moscow locations. Building on the knowledge you've gained so far on your course, you will immerse yourself in your choice of specialist elective modules and hear from inspiring guest speakers. Previous attendees have also had the opportunity to take part in exciting company visits.
Our facilities
Our students benefit from some of the best facilities in the country, including:
The Bloomberg trading room, giving you a taste of working on a real trading floor (Kingston is one of only a few universities that offer this);
Dedicated suites and workspaces, IT facilities and social areas for our postgraduate students;
The business research hub, including our Small Business Research Centre;
The Kingston Business Incubator, a business incubator space, with facilities to help you start your own businesses;
The learning resources centre, open 24 hours a day during term time, with access to libraries, study spaces and computer facilities; and major texts, periodicals and computer learning packages, accessible from more than 200 networked workstations.
The Kingston Hill campus is located in Kingston Upon Thames, voted London's safest suburb and happiest place to live. Central London is 30 minutes from Kingston Upon Thames, offering students access to the vibrancy, dynamism and cultural diversity of one of the world's foremost business capitals.