Read more on the institution's website
Experienced & Respected
For roughly 40 years, Audencia Executive Education has been developing customised training programmes to provide you with the qualifications you need to remain at the top of your field.
Our programmes can lead to certificates or diplomas and meet the needs of companies, executives and managers. You may select training in subjects such as management, sales performance, communication and digital marketing and transformation.
Why Audencia?
Mission: Train and develop managers and leaders who will be responsible, innovative and open to the world through creative and impactful solutions, increasing human performance and conducting the change of organisations.
Expertise: We specialise in a range of high-demand areas so that you can be at the forefront of innovative business practices. For example, through our partnerships and collaborations with top engineering and architecture schools, we lead in these fields:
Corporate social responsibility
Corporate finance
Responsible leadership
Innovation
Pillars: Our pillars ensure the quality, career-relevance and creativity of your programme:
Academic excellence
Professionalisation
Hybridisation of skills
Experience: We are proud to train more than 3,000 leaders, managers and experts each year. You can rest assured that our roughly 40 years of experience providing executive education lends both quality and business impact.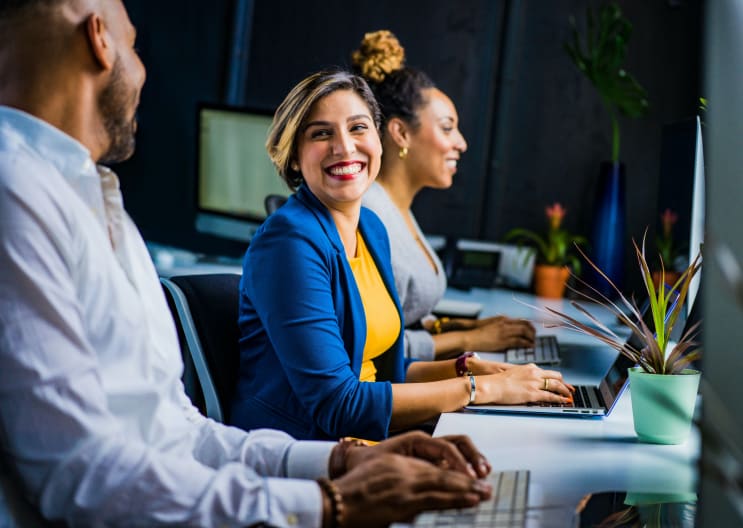 Expertise in Responsible Education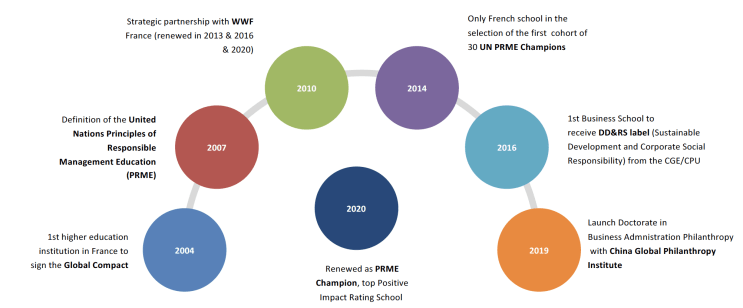 Strategic Partnerships
Because we share the belief that collaboration results in innovative and important projects, Audencia Business School, École Centrale de Nantes and ensa Nantes have formed a strategic alliance. This partnership enhances your programme.
How we work together:
Support training and research within higher education in engineering, architecture, management and related fields
Promote entrepreneurship, innovation and corporate social responsibility on local, national and international scales
Develop and manage projects
Accreditations
Audencia is one of the few schools in the world (1%) holding the three most important international accreditations in the field of business management.
EQUIS

The European Foundation for Management Development (EFMD) evaluates the quality of management schools through EQUIS to raise the standard of management education worldwide.





AACSB

Founded in 1916, AACSB International (Association to Advance Collegiate Schools of Business) is the longest-serving global association dedicated to advancing management education worldwide, accrediting the world's best business schools.




AMBA

AMBA (Association of MBAs) is an international accreditation body for MBAs, DBAs and masters in management programmes. AMBA accreditation represents the highest standard of achievement in postgraduate business education and is earned only by the best programmes.


France
Audencia is recognised both internationally and nationally. We are accredited by the prestigious Conférence des Grandes Écoles and registered to the National Commission for Professional Certification (Commission Nationale de la Certification Professionnelle – CNCP)
Become The Next Chief Value Officer
The MBA Chief Value Officer is a graduate degree from Audencia, a school that is triple accredited (EQUIS, AACSB, and AMBA) and the first MBA in the world dedicated to transforming the measurement, control, and audit professions to get them through the "multi-capital" world.
Integrated Thinking, Value Creation, Responsible Strategic Leadership, and International Dimension are the distinctive elements of our MBA Chief Value Officer. We offer you a very high-quality education with exceptional guest speakers and experienced faculty, as well as strategic partnerships.
Our Chief Value Officer Executive MBA is delivered in the blended format:
PARIS face-to-face + learning trips
Online (65%)
At the end of this course, each participant obtains the Executive MBA Chief Value Officer degree from Audencia Business School.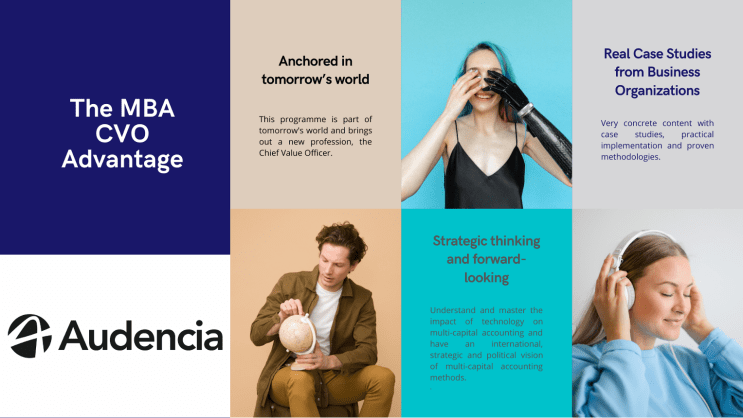 Locations
Paris
Address
95 Rue Falguière
75015
Paris
,
Île-de-France
,
France